Published in WESTMOUNTMAG.CA
https://www.westmountmag.ca/westmount-places-10/
Westmount places
and their stories / 10
The history behind the familiar
By Michael Walsh
Before 2000, everything was about being contextual, and buildings were supposed to be good citizens.
Bernard Tschumi (Architect)
Much has been said about the sense of community one feels as a Westmount resident. This feeling is heighted when store proprietors wave at you while you walk outside their places of business. This occurs on a regular basis during my daily public transportation commute between Westmount and downtown Montreal. Specifically, the bus stops at the south side of St. Catherine and Metcalfe – adjacent to "Westmount Place" – an apartment building with a massive footprint. It wasn't until recently, that I noticed the building has one entrance on Metcalfe (201) and another on Kensington (200).
The building opened with great flair in 1956 – the Westmount Examiner ran a full page advertisement proclaiming "In New York it's Sutton Place… In Paris it's Place Vendôme… Now in Montreal, it's Westmount Place". The Montreal Gazette described the building as having "…commanding views in a beautiful fireproof elevator building, individual air conditioners, balconies, landscaped roof gardens (with a lily pool) and solarium". The building's on-site services included a coffee shop, drug store and various service stores.
'In New York it's Sutton Place… In Paris it's Place Vendôme… Now in Montreal, it's Westmount Place.'
Today, I pay as much attention to this building, and those across the street, as I do to people on the bus! However, I have wondered what occupied this one block area over the past several decades. Spending a bit of time on this matter, one starts to appreciate the forgotten mosaic of businesses and homes, including those of a well-known architect and mason. Over time, these homes and residences yielded to 'progress' that produced the current urban landscape. (In some municipalities, distinctive plaques commemorate notable residents and events.)
Let's step back in time, and discover how this area of Westmount has evolved.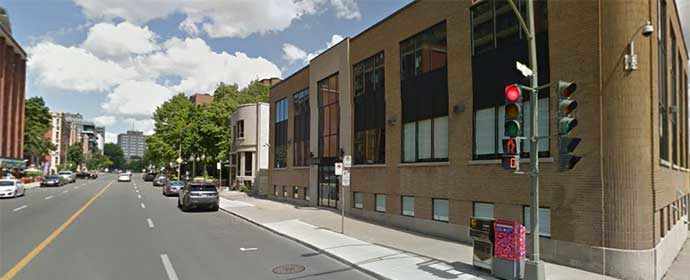 4400 St. Catherine
Nolan Cauchon – 1902
One of Canada's foremost advocates of the "City Beautiful" concept of urban planning and was Ottawa's first town planner. This concept incorporates the natural world (gardens and park lands) with urban spaces.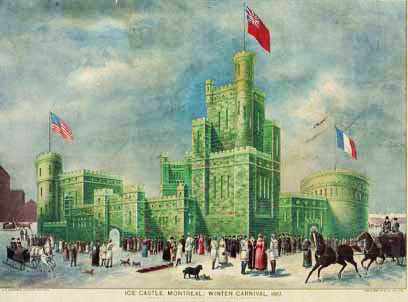 4404 St. Catherine
J. H. Hutchison (contractor) – 1902
Notable achievements included construction of North America's first ice palace.
The Ice Palace built for the first Winter Carnival, in 1883, was North America's first Ice Palace. It was designed by architect and mason A.C. Hutchinson, an expert in cut-stone work who had supervised work on the Christ Church Cathedral at age 19 before working on the Canadian Parliament buildings earlier in his career. – IceCubicle.net
4424 St. Catherine
Charles E. T. Woodley (traveller) – 1902; Newson Construction Company – 1967
4425 St. Catherine
Andrew Angus (bookkeeper) and R. G. Angus (advertising agent) – 1899 ; Henry H. Curtis (druggist) – 1902; Brunel Custom Tailor – 1967
4427 St. Catherine
Peter C. Small (commercial traveler) – 1899; J. Mundie (clothing) – 1902
4428 St. Catherine
J. S. Hewson Equipment Rental Company – 1957; Cliffside Garage – 1957; R. T. Smith Construction Company Limited – 1957; Foreign Motors Limited – 1967
4430 St. Catherine
Thomas Shaw (commercial merchant) – 1902; Miss A. E. James – 1932; S. Schwartz & Co – 1932; George H. Knott & Company – 1941; Norman Wade Company Limited (reproduction office) – 1967
4431 St. Catherine
Debbies Coffee Shop – 1967
4434 St. Catherine
Maag Company Limited – 1957; Odhner Adding Machine Company – 1967
Lathem Time Recorder Limited – 1967
Established in 1919 with headquarters in Atlanta, the company manufactures time clock software.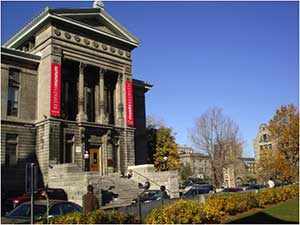 4435 St. Catherine
Westmount Place Snack Bar – 1957; Westmount Place Drug Store – 1957; Westmount Hi Fi and T.V. – 1967; Midwest Electric & Television Registered – 1967
4436 St. Catherine
James M. Shaw (dentist) – 1902; H. Finestone – 1932; Mrs. C. Wadsworth (widower) – 1941
4441 St. Catherine
Westmount Place Pastry – 1957; Vincent the Barber – 1960; Joe the Barber – 1967
4444 St. Catherine
J. H. Elliot (artist) – 1899; I. Q. & E. Secretarial Services Limited – 1957
Richardson Bond & Wright Limited – 1957
The company developed into one of the most important printing establishments in Canada. In 1918 they began selling printed forms that were made using a new development in the printing industry. It was known as "Fleming's Standardized Process", a method of lithographing forms on a patented roll-fed press. This development was a forerunner of web-press technology, and made R-B-W the largest manufacturer of single blank forms in Canada. They also had "the first offset press in the world to be web fed". They also developed the Photo-Repro System. During the Second World War, the plant was used to print Canadian ration booklets, as well as secret Allied Code books for the war effort. – Grey Roots Museum & Archives
Orient Hosiery Sales Limited – 1957; Canadian Silk Products Corporation – 1957; Marrotte & Co – 1957
E. S. & A. Robinson (Canada) Limited – 1957
This British company (founded in 1844) manufactured wrapping paper and paper bags for grocers. Their largest overseas operation was in Canada where they produced laminated packaging materials.
Abitibi Sales Company Limited – 1957; Hamilton Cotton Company Limited – 1957; Stewart William & Son Limited – 1957
4445 St. Catherine
H. H. De Zouche (Carpenter) – 1899; Pierre My Hairdresser – 1960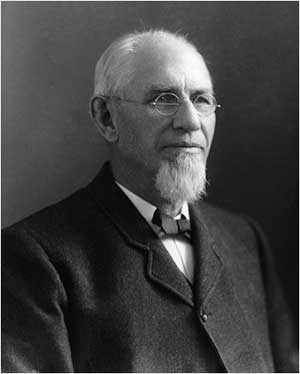 4447 St. Catherine
Alexander Cowper Hutchison (Hutchinson & Wood) – 1899
Alexander Cowper Hutchison (Architect) was born in Montreal in 1838. In company with James Morrison, he erected some of the principal buildings in Montreal. He was entrusted with supervising the stone work of Christ Church Cathedral, known to be the finest example of Norman Gothic on the continent. He afterwards moved to Ottawa, where he was engaged on the Parliament Buildings, in charge of stone cutting. Returning to Montreal he decided to commence practice as an architect in 1863, and soon secured a large practice. He was appointed a member of the Royal Canadian Academy by the Marquis of Lorne in 1880.– The Canadian Architect and Builder, 1895
Notable buildings include: The Redpath Museum, a major expansion of the Windsor Hotel, Queen's Public School, Saint Andrew's Presbyterian Church, Fire Station No. and the Mechanics Institute.
4451 St. Catherine
H. H. Regan and Sons Grocers – 1899; Metcalfe Pharmacy – 1941